One of the benefits of setting up your ticketing system is that it encourages and showcases a professional approach to customer care that other companies may be lacking. The system sorts and ranks requests by time or urgency, making the process more efficient active.
Letting the client know that you are working hard to resolve their issue is an important part of customer care, making sure that information is detailed and available to any staff member that deals with an inquiry at any will make every ones job easier and the ticket resolution times quicker.
The system can also monitor which requests have been taken care of and which ones are yet to be done. The system also acts as a client support agent. Update and monitor the progress of the ticket as the case progresses from initial creation through to completion, with each department and relevant staff member adding their input until the ticket is closed and the client is happy.
Benefits
Since requests are sorted properly, it is easier for the company to direct a certain request to a specific department or person who is more knowledgeable to respond to a request ticketing system also gives automated updates, which customers are always grateful for. A ticketing system also stores previous conversations with clients; this helps trace a request's progress.
Ticketing systems are good at collecting data and perform analysis on how satisfactory or unsatisfactory customers are with services, these allow for a more detailed analysis of how the business runs and means that improvements to existing procedures can easily be implemented, backed up with solid facts and stats.
Feedback is an integral part of any business. Companies always want to know the customers' concerns, suggestions, or comments on certain processes or services.
You can increase your business productivity and retain clients if you work to actively resolve any issues that may arise during the normal day to day business routines, These can be delivery issues, stock issues or project progress problems that are easily de-escalated simply by having the information on hand when you need it.
In the digital workplace setting, businesses can benefit from an online ticketing system that is greatly beneficial because clients need not visit an office, it's a simple and effective way to give feedback or submit an inquiry. Instead, they use a ticketing system to communicate their needs instantly.
The ticketing system is among the inclusions of the Eureka Intranet. Eureka's ticketing system is focused on two major categories: incident and change management requests. Both of these are important processes that allow your company to grow its customer service score, we all know that positive reviews and feedback can make a company good, it's how you deal with the problems that can make you great.
The Incident Management Request aims to allow customers to file incident reports, these reports become tickets that can be worked through and resolved with little to no room for error. No lost sticky notes, no relying on one person for information, while the Change Management Request allows for suggestions on adjustments to a process, product, or service and gives your business a valuable insight into how the client perceives your existing processes, an excellent way to improve word of mouth recommendations is to listen to the end-user and let them spread the good word for you.
Incident Management Request
The Incident Management Request aims to accept incident reports from clients. Management can easily check the incident requests made by customers and route them to employees whose expertise can solve the requests.
Eureka's Incident Request allows customers to create a new incident request, view, or edit them. The Incident Request's list includes a short description, urgency, category, caller information, to whom a request is assigned to, and the status.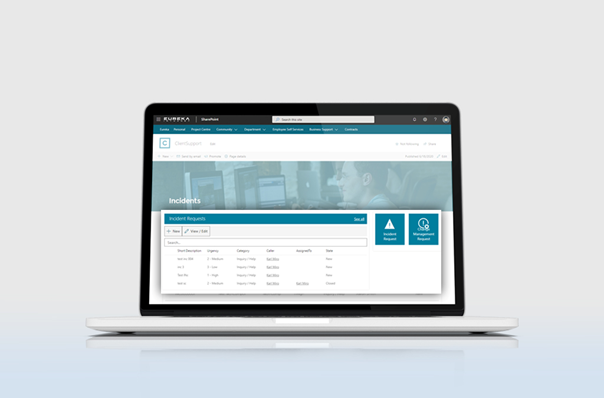 The Incident Request page also has a search bar where you can easily look for specific requests. You can also search for requests that are tagged as high, medium, or low.
To create an incident request, click the New button and start providing details and attachments. Once done, hit Save or Cancel if you change your mind.
Change Management Request
The Change Management Request aims to allow customers to submit their suggestions and adjustments to services, products, or processes.
To create a new request, simply click the New button and provide the necessary details for the request. In the Change Management Request, you can easily see who requested which request and its progress. Unlike the Incident Request, the Change Management Request form needs more information. For example, in the attachment details, you need to provide the schedule, change overview objective, pre-change test plan, start and end date, rollback plan, post-change test plan, communication plan, and so on.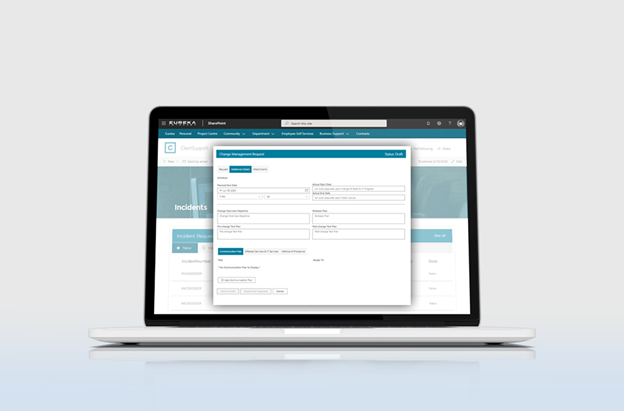 Like the Incident Management Request, the Change Request also carries a search bar where you can look for specific change requests.
Now that you know how our Ticketing system can be advantageous to your business process, read below for how to use just a few of the features and don't hesitate to contact us for a free demonstration, or, simply ask us a question via email, we are always happy to help. try the Eureka Intranet's Ticketing system can be set up very quickly and our expert team can make it work for you exactly the way your company needs it to. Simply by clicking this link so we can schedule you for a quick demo or visit the website at www.eurekaintranet.com.