Did you know the average employee spends 1.8 hours every day? that's a staggering 9.3 hours per week on average simply searching and gathering information needed for them to effectively do their job. (according to a McKinsey report).
Wouldn't it be great if there were a system that delivers information right to employees' fingertips? Improving business systems and making everyone's work-life easier to organize? The Employee Self-Service (ESS) center is a part of Eureka Intranet's package and will save your business hours and hours of time every day by ensuring that regularly required information is readily available to the people that need it most.
Policies, procedures, training content and other documents can now all be found in one spot, clearly labelled by department, project or document type so employees no longer need to spend time searching for information through sometimes disorganized or unclear file systems.
Task Automation
A big part of ESS is Task automation as it is the key to help reduce employees' workloads and simplify business processes; Eureka can help you create a streamlined, efficient workflow.
Here are some of the benefits of automation:
reduces paperwork by eliminating paper forms and spreadsheets
speeds up approval processes
tracks workflows progress
reduces costs by saving manpower hours
increases employee satisfaction by reducing repetitive tasks
automatic reminders can be set up for workflows
the mobile-friendly system allows remote working across many devices
The ESS provides you with a centralized access point for information like payroll, corporate information, various request forms, documents, and employee benefits.
Request Forms 
Allow employees access to request forms for absence, training, expenses, software, equipment, onboarding/offboarding routine documentation and free up time for your HR department.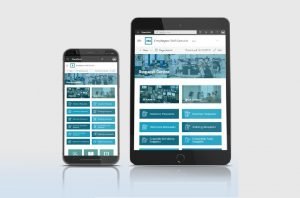 Admins can add more specific request forms since the ESS form is built on the SharePoint modern design.
Training 
This system provides you with learning materials like the basics of using SharePoint, along with how to integrate Microsoft Teams with SharePoint Online. The intuitive user interface and learning program will allow your team to become proficient within a very short amount of time.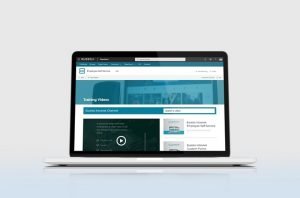 FAQs 
Easily display answers to your frequently asked questions (FAQs) such as company history, mission, and vision. Contact us to see how to do this.
With the ESS feature installed, your Human Resources personnel will save a lot of time processing forms, answering questions from employees and conducting training as well as new employee orientation. All the daily tasks such as monitoring staff working hours for salary purposes, managing leave requests and recording training taken become very simple to manage and record with the ESS, just click this link below to get a quick demonstration.
Maximize the potential of your available resources by using cost-effective, simple to use technology with Eureka Intranet.